In the first week we crossed Slovakia.
Day 10: We are passing the Ukrainian border – no problems at all.
It is a rainy day. From Snina, we start out on a long cycling tour through beech forests that takes us to the border between Slovakia and Ukraine. Everything is totally uncomplicated, and within only 30 minutes we have passed the border.
Over long and winding paved roads with plenty of potholes, we finally reach the town of Perechyn with its vibrant (fruit and vegetable) market. Blueberries and mushrooms are in season now – delicious!
Accommodation here is great: The hotels are so big that all our bikes fit into the room!
Day 11: From Perechyn to Volovec – and to Sascha.
Ukrainian-style eating and drinking.
We have to overcome a pass, and after a strenuous section of 80 kilometers and 850 meters elevation gain, we literally race down the long and steep descent and right into the town center of Volovec, typically ending at Sascha's guesthouse (500 meters along the main road, on the right-hand corner). Sascha welcomes us with a hearty embrace and all his beer varieties – and immediately calls for the cook to make us dinner.

It doesn't take long, and Sascha appears with an entrée of cabbage and carrot salad, hearty bacon and goat's cheese – the right kind of food to go with his home-made schnapps, he says. The intermediate course is "borscht", a delicious beet soup topped with cream, typical of the region. Then comes the main course: pork skewers with salad and spiced potatoes. Thank God we can stay the night in Sascha's attic! Our breakfast is as sumptuous as our dinner the night before…
Day 12: To Kolochava
Our trip to Kolochava starts on a sunny day. 65 kilometers and an elevation gain of 1,350 meters are awaiting us. We pass through a scenic landscape interspersed with lengthy street villages and horticulture (subsistence farming). From Mischhira, we have to climb another pass – through the National Park.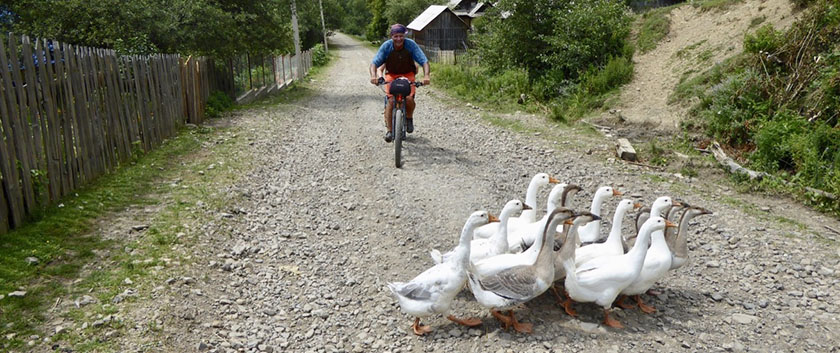 Day 13: To Velykyi Bychkiv
Alongside the river, passing a number of transcarpathian wooden churches.
We have finally conquered the pass – what a feeling…
It is a long ascent on forest and gravel trails, with a magnificent view of the surrounding countryside.
Day 14: To Rachiv and the upstream section of the Tisza River.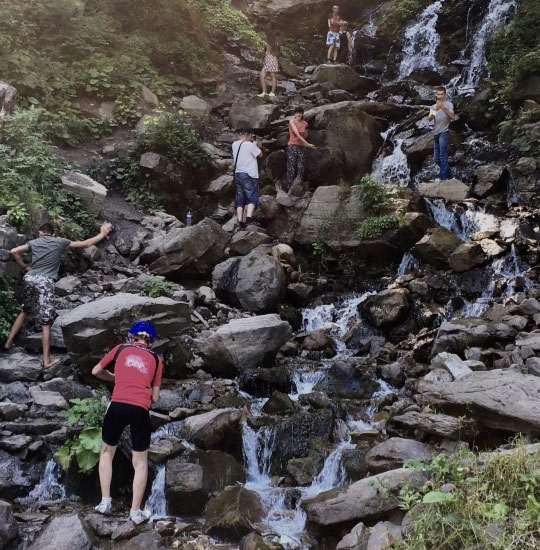 Day 15: Through the Hutsul Region
Today is Sunday. We are not really fit, (our stomachs are aching…). Yet, we are bravely carrying on, making our way down from a pass (covering a length of 100 kilometers and 400 meters altitude gain) to the Carpathian National Park (a popular skiing resort in winter). We are heading in the direction of Iwano-Frankiwsk, through the Hutsul Region. The Hutsuls are a mountain people living in the Carpathians, more precisely in the border region between Ukraine, Poland and Romania. They have maintained their ancient customs, rituals and traditions throughout the centuries, still practicing their typical crafts and architecture. For the first time, we acknowledge the significance of traveling through the Hutsul Region on a Sunday: village people dress up in their colorful folkloristic clothes and gather in the streets to celebrate their weddings.